Your Myrtle Beach Eye Doctor
Carolina Forest Family Eyecare
We also serve Conway and Socastee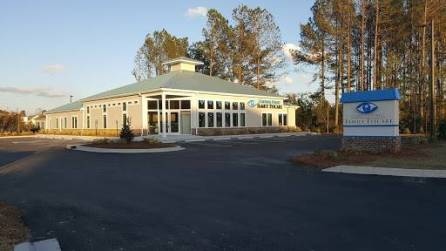 Whether you need an optometrist for a routine eye exam, to find the right pair of contact lenses or eye glasses, or for more advanced eye care services, you want to know that the eye doctor you are seeing has the right experience, expertise, and "chair-side" manner to make you comfortable on your visit. With years of outstanding service in the community, our optometrist, Dr. Thomas Weshefsky, has a reputation for excellence.
From our eye clinic in Myrtle Beach, our optometrist, Dr. Thomas Weshefsky, provides optometry and eye examination services to Conway and Socastee. He also specializes in Vision Shaping contact lenses.
Take a moment to review the wide range of optometry services we have available for you:
Dr. Thomas Weshefsky discusses how too much screen time affects your child's vision. He covers the Myopia Epidemic and how to prevent your child's vision from getting progressively worse.
Q&A with Dr. Weshefsky
Dr. Weshefsky Answers Your Eyecare Questions
What are some of the symptoms of Dry Eye?
Focus Your Attention On These Key Areas
The best eye exam I have ever had. Thorough and educational. The entire staff is excellent. If you need eye care and you live anywhere near Carolina Forest you need to see Dr. Weshefsky.
- George K.
The entire staff was professional, friendly and helpful from the moment I walked in the door. Dr W. is very patient and take time to explain every aspect of your exam results to you. I felt comfortable a the practice and felt very special. By far the very best eye care experience I have had.
- Norma R.
Dr. Weshefsky's entire staff - billing, front desk and pre-screening - is friendly, professional and trustworthy. The doctor himself is one of the best eye doctors I have ever known. It is hard to say enough about the entire practice because it is so good.
- Melinda C.
You're first impression of this place is that there is almost always no place to park! But that's a minor thing as I'm a younger person and can walk. The staff is friendly, competent, and professional. Thanks to their customer service efforts they were able to work with me and my insurance company to help put me in the glasses that pleased me.
- Carl B.
what a great experience!!! the best eye exam I have ever had. The staff and Doctor were exceptionally caring and professional. I am excited to spread the great word!!
- Kathleen B.
Great experience!
- Uriel S.
The staff at Carolina Forest Eyecare are very nice and extremely helpful. Mary helped me pick out the perfect frames to fit my face. If you're new to the area and are looking for an Optometrist... I highly recommend Dr. Weshefsky. You won't be disappointed.
- Lauren M.
Jan 10, 2018
It's that time of year again. January is National Glaucoma Awareness Month, a time set aside each year to create...
Gentle Vision Lens Shaping Contacts