Your Myrtle Beach Eye Doctor
Carolina Forest Family Eyecare
We also serve Conway and Socastee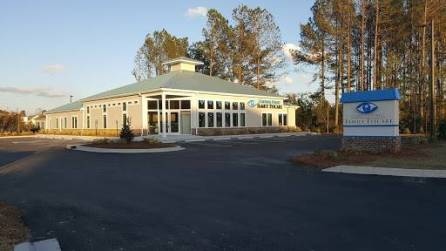 Whether you need an optometrist for a routine eye exam, to find the right pair of contact lenses or eye glasses, or for more advanced eye care services, you want to know that the eye doctor you are seeing has the right experience, expertise, and "chair-side" manner to make you comfortable on your visit. With years of outstanding service in the community, our optometrist, Dr. Thomas Weshefsky, has a reputation for excellence.
From our eye clinic in Myrtle Beach, our optometrist, Dr. Thomas Weshefsky, provides optometry and eye examination services to Conway and Socastee. He also specializes in Vision Shaping contact lenses.
Take a moment to review the wide range of optometry services we have available for you:
Dr. Thomas Weshefsky discusses how too much screen time affects your child's vision. He covers the Myopia Epidemic and how to prevent your child's vision from getting progressively worse.
Q&A with Dr. Weshefsky
Dr. Weshefsky Answers Your Eyecare Questions
What are some of the symptoms of Dry Eye?
Focus Your Attention On These Key Areas
From the moment I walked thru the door, I was treated in a friendly and caring manner. The staff explained what each test was for and I have never received such an in-depth explanation of the results of my examination as I did with Dr. Weshefsky! He not only told...
-
Anne R. (on Smilereminder)
Everyone was so friendly! It was the BEST eye exam we have ever gotten. Dr. Weshefsky was so thorough and took the time to explain everything. I did not feel rushed at all!!!...
-
Gina Marie O (on Smilereminder)
I can't say enough about my office visit and choosing new glasses. What a refreshing change! A doctor and his staff that is pleasant and put you first!...
-
Marlene G. (on Smilereminder)
Top notch staff and doctor! The staff were super professional and courteous. Made me feel comfortable and are committed to explaining options both with the eye care and insurance/financial information. Was able to register my patient information online in advance rather than on a clipboard to delay my visit! Online...
-
A Google User (on Google+)
Dr. W really knows what he's talking about. He's always up to date on all of the latest technology and offers sound advice. The staff is ALWAYS SO friendly! Every one of them make you feel like family when you come in the door. I would highly recommend them!...
-
Lori White (on Google+)
I'VE NEVER HAD A BETTER EXPERIENCE AT ANY DOCTORS OFFICE BEFORE! Dr. W and his adorable staff were all so eager to help, their costumer service was just outstanding. As soon as I walked in the door I was taken back by the warm welcome. They offered me coffee and...
-
Jessice Rodman (on Google+)
It Was Perfect! I work in retail and I know how important customer service is - Start to finish. Everyone in the office was very personable and helpful. Dr. Weshefsky made me feel very relaxed and comfortable. It was a great first experience of how eyecare should be! Thanks!...
I was looking for the best optometrist I could find and found that in Dr. Thomas J. Weshefsky. The only word that comes to mind is impeccable. From the wonderful women at the front desk to the exceptional experience with Dr. Weshefsky himself. The time Dr. Weshefsky spends and the...
-
Kristy and Kayla Fontaine
My wife and I just started coming to this eye center. Everyone is great and makes you feel like family. The doctor was great and explained everything in detail. Lynne is wonderful finding the right glasses for you. Kim and Sofia are wonderful and very helpful. I will recommend to...
Oct 15, 2017
October has arrived and that means many people are already starting to plan for upcoming costume parties and trick-or-treating for...
Gentle Vision Lens Shaping Contacts